Hello, lovelies! It's practically spring. :D
I finally got my act together and got back to posting this after half a month of inactivity… so yeahhh. Hi.
Today's post is pretty self-explanatory. I personally am a crazy shipper… I think it gets on my family's nerves sometimes actually (it gets on my nerves too)… but I've developed valuable skills and can sense a romance coming from a mile away, sooo. In the end, it's all been worth it. XD And today I go over a few tropes in fictional romance that are my favorites. Enjoy.
The "Childhood Love" Couple
Obviously the ones that have been best friends since they were small. This one makes me ridiculously happy. It's just so perfect and pure. *squee*
My favorite examples:
Esperanza + Miguel (Esperanza Rising, Pam Muñoz Ryan) – This is still one of my favorite books. It's such a happy book. You know what I mean, it just gives you this amazing nostalgic-y, uplifted feeling. Plus Esperanza and Miguel's bond is so wholesome and strong. I like.
Anne + Gilbert (Anne of Green Gables series, L.M. Montgomery) – CLASSIC. These two are a 100% excellent excellent example and I love them. The movies don't do the books justice, but I still think their relationship is deliciously done in film as well.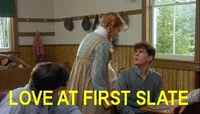 Shy Girl + Charming Guy
This one seems pretty popular. The bashful protagonist with a kind, precious heart (we all love her), and the sweet, engaging guy who comes into her life with adorable smiles and kindness and takes her breath away (we just might love him even more). The best thing ever is to watch the girl get all awkward and even cuter because the guy is so captivating without even meaning to be… it's super ultra sweet. Very enjoyable.
My favorite examples:
Aza + Ijori (Fairest, Gail Carson Levine) – I loved watching Aza fall for him, little bit by little bit. The way she tries to resist his irresistibleness, and the fact that he finds her beautiful when no one else does. All the heart eyes.
Ella + Kit (Disney's Cinderella, 2015) – A lot of things about this movie were a little cheesy to me… sweetly cheesy, but cheesy nonetheless. But! But. Kit and Ella's romance was precious. This much I will admit.
Catherine + Henry (Northanger Abbey, Jane Austen) – In my opinion, one of the best examples. Especially in the movie (:P it's truuue).
I mean pfft they share a love of books. #goals
Fiesty Gal + Stable, Quieter Guy
Here we have the fireball who has everything under control. She's independent and spirited, and perhaps a little bit impetuous… And then we have this guy, this perfect character to balance her. Level-headed, with a determined but equable approach and a knack of calming her down and keeping her steady. THEY FIT TOGETHER LIKE A PUZZLE.
My favorite examples:
Enna + Finn (The Books of Bayern, Shannon Hale) – These two have, quite possibly, the best relationship in The Books of Bayern. They are each exactly what the other needs. Finn's so good at calming Enna's flinty temper, and she stimulates him in the best way, drawing out the strengths of his character and making us smile.
Scarlet + Wolf (The Lunar Chronicles, Marissa Meyer) – Yass. I loved how their romance developed over the course of the series; it started out meh and seriously improved. Amaright??
The Bantering Couple
When they have chemistry and sass together. This is one of the most enjoyable ships, in my humble opinion. Watching their mutual snappy dislike morph into true care for each other (though usually/hopefully they still continue the hilarious banter). It's great.
My favorite examples:
Leo + Calypso (Heroes of Olympus, Rick Riordan) – I didn't get to see as much of them together as I would have liked, but what I got… <3 <3 We have sassy Leo, who is probably my favorite character in the entire series just so everybody's aware. And then we have Calypso, who challenges him with her perfect sassy comebacks. They're perfect for each other.
René + Sophia (Rook, Shannon Cameron) – Yesss muahaha. I'm going to apologize in advance here because I have no idea how many spheres of the internet I've roared about René's perfection on now… if you're following me anywhere else odds are you've heard all this before. But seriously, words fail me. They just – fail me. Tbh, a couple aspects of his and Sophia's romance got on my nerves… but only a couple. The great majority of it was witty, hilarious perfection.
Declan O'Callaghan + Anna (Leap Year, 2010) – …Need I say more?? (I can't believe I only saw this movie for the first time last month.)
Cocky, Intrepid Guy + Shy/Quiet Girl 
This one is so satisfying. Sophisticated, dashing dude meets vulnerable sweet roll with a big, compassionate heart, and romance happens. It's really fun to watch the affection unfold between them; when the girl is able to bring out the guy's flawed, broken side, and when he gives her courage. Much applause.
My favorite examples:
Cress + Thorne (The Lunar Chronicles, Marissa Meyer) – Do we all agree that they were just perfect for each other? Absolutely perfect. I liked that Cress's blind crush on Thorne developed into such a true love, and that she seemed to soften and make him a better person.
Luka + Yael (Wolf by Wolf, Ryan Graudin) – I feel like they fit more loosely into this category. But they fit nonetheless.* Yael is a lot more damaged than shy and vulnerable, given her past, but she does have that element of tenderheartedness. And then Luka is the ultimate in cocky jerkism… until of course she encourages him into becoming a better person.
*Do not question me. I have my own superior logic. Obvs.
Rapunzel + Flynn (Disney's Tangled, 2010) – One of my favorite Disney couples. Despite having a very limited falling-in-love time frame, I feel like the attraction arc and overall chemistry between them was very realistically (and cutely?) done.
Also Flynn.
The Adorable Best-Friends Couple 
This one makes me soooo happy. The two that just have this playful, chummy, and close relationship, and absolutely, honestly adore each other.
Ella + Char (Ella Enchanted, Gail Carson Levine) – I cannot express how much I love love love these two. They are my favorite and my best. ;) I love that their ship is so middle-grade worthy and pure, but also romantic too?!? And how Ella is the one who stimulates Char and makes him laugh, but he's the one who encourages her and admires her and gives her strength.
Valancy + Barney Snaith (The Blue Castle, L.M. Montgomery) – The bond they have melts my heart. L.M. Montgomery did a master's job building the affection slowly but surely between them, from cozy companionship to real longing for each other.
Mutually Shy Beans
The couple that are both so shy that they won't admit they love each other, so you're dyinggg because 52% of you ships them so hard it physically hurts, and the other 48% wants to knock their heads together for being such adorable idiots. Like YOU LOVE EACH OTHER JUST ADMIT IT ALREADY. FOR CRYING OUT LOUD.
Examples:
Edward + Elinor (Sense and Sensibility, Jane Austen) – Though can I just add, they were sooo much lovelier in both the movie adaptations than in the book.
Jane Bennett + Charles Bingley (Pride and Prejudice, also Jane Austen) – So these two were okay in the book, but sort of even more background characters. I didn't really get to see their romance like I did in the movie. And I'm talking the 2005 version here. I know; go ahead and attack me for loving it, outraged book fans. I should be ashamed. BUT. HOW can you not love Jane and Bingley in it?? They are SO PRECIOUS. I CAN'T.
Too. Much. Cuteness.
Tough Girl + Awkward Guy With Hidden Depths
This girl is a hyper cannonball of courage and high spirits. She has grit and wit and she will fight you… she's also possibly quite attractive as well?? The guy in question here is a little bit less demonstrative, a little bit undeveloped. To be honest, he's quite awkward. But then it turns out (surprise!) this girl also has a softer, more vulnerable side. He brings it out, exposes her hidden sweetness. And she draws forth his strong points.
Aud + Halli (Heroes of the Valley, Jonathan Stroud) – Though it's never outright stated that these two become a couple, it's implied. Which I like. Because I ship them. :P Aud made some slightly coarse jokes here and there (I shouldn't have laughed at her….. I did), but I thought her breezy bravery and overall good humor was an excellent match for Halli's quieter personality.
Hiccup + Astrid (How to Train Your Dragon, 2010) I think these two are the ultimate example. I LOVVVVE their chemistry. The movie as a whole had its flaws (it was still pretty darn good tho), but the romance between them was one thing perfectly achieved. I mean. They're adorable.
I know this is from HTTYD 2, but whatever. In my opinion it's the best gif of them.
Mutually Protective, Save-the-World-Together Couple
The ones that always have each other's back, throughout danger and adventures alike. There for each other, strengthening each other, protecting each other… otherwise being sweet.
Percy + Annabeth (Percy Jackson and The Heroes of Olympus, Rick Riordan) I think Percabeth are a pretty common example for literary dream couples. But. They're awesome. A couple who battle mythological beasts and trek through Tartarus together, stay together. ;P Their relationship is my favorite; it makes me smile [and sometimes crack up laughing].
Elizabeth + Will (Pirates of the Caribbean, 2003) – They're just lovely together. That is all.
Calvin + Meg (A Wrinkle in Time series, Madeleine L'Engle) – These two also fit well into the Childhood Love category, which makes me happy. But I think they fulfill this one too. They were honestly my favorite bookish couple ever when I was younger (part of the reason may or may not have been that I had a massive literary crush on Calvin) ("had", ahahaha).
 Gruff/Socially Repressed Guy + The Girl He Can't Resist
Here's Dark and Withdrawn Guy who pushes people away and yet has a secret lonely side… then one particular girl appears, intrudes on his life, and rocks the foundations of his antisocial world. She draws him out of his shell. She makes him have feelings. WHY IS SHE MAKING HIM SMILE? WHY CAN'T HE RESIST HER PRECIOUSNESS?
Jane + Mr. Rochester (Jane Eyre, Charlotte Brontë) – Their romance makes me want to cry. :')
Elizabeth + Darcy (Pride and Prejudice, Jane Austen) – They've become a pretty much stereotypical couple, but I don't care. They fit into this trope so well. Darcy is completely standoffish in the beginning, also a teensy bit arrogant (though not as much so as Elizabeth perceives him to be, of course). And she hates him. :) A good foundation for any romance. And then it turns out each of them completely captivates the other (over the course of a lot of humbling and self-sacrifice), and bang, Jane Austen has a classic.
Beauty + the Beast (the movie or the fairytale) – Ah yes.
Molly Hooper + Sherlock (BBC's Sherlock) – These two are a difficult subject for me because…[spoilerish content ahead woop] they didn't. end. up together. And I SHIPPED THEM. I NEEDED THEM TOGETHER. I – I can't. My feels are broken. But I think they fit into this category pretty well, because Molly so uniquely brought out his emotions and his stifled compassionate half… (nope, i'm fine. i'm okay). Most people couldn't do that. And don't try to tell me he didn't love her, really truly love her, because I will not listen to you.
I don't need that kind of negativity in my life.
Thank you for reading, and for your support! It really means a lot. :) Comment below with some examples that I've forgotten (or just left out, because I didn't want to overwhelm you all and have a yard-long post ahaha). Or just your favorite ships. I will rant over them with you. I sympathize.